Meaning Modals
An Inquiry into the Semantic Content of Some English Modals
Keywords:
English modals, women assertiveness, newspaper articles, linguistic choices, semantic content
Abstract
Twenty years of the Beijing Conference has been celebrated in 2015. However, the extent to which women empowerment is expressed in their linguistic choices remain an issue of interest to linguists. Modal verbs as propositional elements that can reveal women's power self-expression has not been much investigated. This study thus set out to investigate the meaning content that these grammatical elements possess in relation to their usages by women as syntactic elements expressing their perception of their power positioning within the Nigerian psychosocial milieu. Data were collected using sample extracts taken from newspaper articles expressing women linguistic usages of English modal verbs. An analysis of the modal system based on the SFG theory was applied to the collected data. An interrogation of the modals reveals propositional content of the modals within the syntactic structures in which they occurred. It was found that the modal verbs as employed by Nigerian women in the newspaper articles indicate that the perception of the women in terms of their ability to assert their power within the Nigerian society is yet to fully materialise. Instead, the finding indicates their continued hegemonic consent to the patriarchal social order. It was thus concluded that modals not only possess semantic content within syntactic usages, their usages by Nigerian women have propositional contents that are not fully self assertive but rather hegemonic in its support of patriarchy.
References
Asante, B. (2006). "I'll Shatter the Mystique of Under-performance." The Guardian.
Sunday, January 22: 23.
Awake! (2008). "Violence against Women: A Global Problem." Violence against Women:
What is the Bible's View? New York: Watchtower Bible and Tract Society. January, 89.1: 3-7.
Daniel, I. O.. (2008). The Linguistic and Pictorial Representation of Nigerian Women's
Assertiveness in Selected Nigerian Newspapers. Doctor of Philosophy Thesis, Department of English, University of Ibadan, Ibadan, Nigeria.
Galbraith, J. K. (1983). The Anatomy of Power. London: Hamish Hamilton Ltd.
Hakutani, Y. (1978). "The Features of Modals in English Syntax." Linguistics. 209: 59-69.
Halliday, M. A. K. (1985). An Introduction to Functional Grammar. London: Edward Arnold.
Halliday, M. A. K. & Matthiessen, Christian M. I. M. (2014). Halliday's Introduction to Functional
Grammar. (4th edn.) London and New York: Routledge.
Keating, E. (1998). "A Woman's Role in Constructing Status Hierarchies: Using Honorific
Language in Pohnpei, Micronesia." International Journal of the Sociology of Language. 129: 103-115.
Kirby, M., Kidd, W., Koubel, F., Barter, J., Hope, T., Kirton, A., Madry, N., Manning, P.,
& Triggs, K. (1997). Sociology in Perspective. Oxford: Heinemann Educational Publishers.
Lorde, A. (1994). "The Master's Tool will Never Dismantle the Master's House." The
Woman Question. 2nd edn. London, Thousand Oaks, New Delhi: Sage Publications.
366-368.
Opara, S. C. (2005). "Mood Structures in Selected Clauses in Buchi Emecheta's Second-
Class Citizen." In M. Olateju & L. Oyeleye. (Eds.) Perspectives on Language and Literature. Ile-Ife: Obafemi Awolowo University Press Ltd. 117-133.
Osisanwo, W. (1999). An Introductory Analytical Grammar of English – A Systemic Approach.
Lagos: Femolus-Fetop Publishers.
Palmer, F. R. (1977). "Modals and Actuality." Journal of Linguistics. 13.1: 1-23.
Palmer, F. R. (2001). Mood and Modallity. Cambridge: Cambridge University Press.
Papafragou, A. (1998). Modality and Semantics-Pragmatics Interface. PhD Thesis, University
College, London.
Reah, D. (1998). The Language of Newspapers. London: Routledge.
Von Fintel, K. (2006). "Modality and Language." In Donald M. Borchert (ed) Encyclopedia of
Philosophy – Second Edition. Detroit: MacMillan Reference USA.
Wodak, R. (2001). "What CDA is about – A Summary of its History, Important Concepts
and its Developments." Methods of Critical Discourse Analysis: Introduction to
Qualitative Methods. R. Wodak and M. Meyer. Eds. London: Sage Publications Ltd.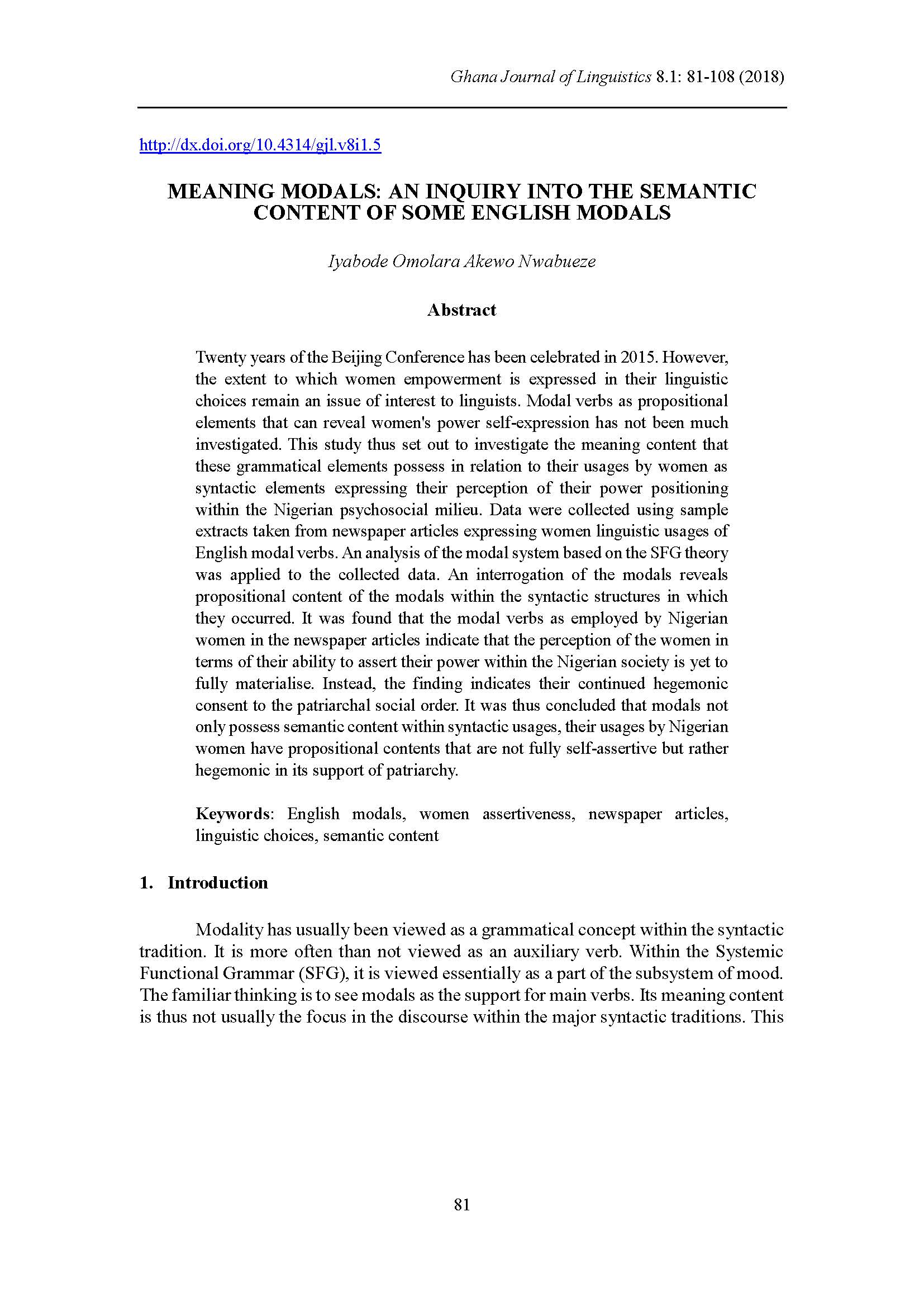 How to Cite
Nwabueze, I. O. A. (2019). Meaning Modals: An Inquiry into the Semantic Content of Some English Modals. Ghana Journal of Linguistics, 8(1), 81-108. Retrieved from https://laghana.org/gjl/index.php/gjl/article/view/207