Reminiscing the Contribution of a Pioneer of The Development of The Twi Language
Clement Anderson Akrofi
Keywords:
Akan, Twi, missionary, education, grammar, dictionary, language., akan, twi, missionary, education, grammar, dictionary, language
Abstract
The object of this paper is to evoke the life and contribution of the late C. A. Akrofi, a Ghanaian linguist, to the development of Twi, and to reflect on the relevance of his works to contemporary Akan linguistics studies. The study draws on tenets of the Rhetorical Narrative Theory (Herman et al 2012), an approach embedded in the Narrative Tradition, propounded by Epston and White (1990). Literature on the development of indigenous languages of Ghana attest that it is the preliminary work of Basel and Scottish Missionaries which formed the bedrock of the study and documentation of the languages (Bediako 1995; Debrunner 1967; Kpobi 2008). The paper is an account of the life of an individual who was undaunted by his physical incapacities, but with the foundation laid by the Basel and Scottish Missionaries, strove to leave a legacy in the study of Akan linguistics. Information for this study was partly acquired from narratives recorded from semi-structured interviews, and secondary sources from the library and archives of the Akrofi-Christaller Institute of Theology, Mission and Culture at Akropong Akuapem; the Akrofi family archives at Apirede-Akuapem and his personal records. The paper contributes to literature in interdisciplinary biographical research.
[1] The language C.A. Akrofi worked on is Twi. It refers to Asante and Akuapem, dialects of Akan. His studies were primarily based on the Akuapem dialect whose sound system and structure are akin to those of Asante. He sometimes uses Akan and Twi interchangeably. 
References
Akrofi, C.A.1938. Twi Kasa Mmara (Twi Grammar Book). Accra: Waterville Publishing House.
Akrofi, C.A. and E.L. Rapp. 1938. A Twi Spelling Book (Twi Nsɛm Nkorɛnkorɛ Kyerɛwbea). Accra: Government Printing Office.
Akrofi, C.A. and J. J. Adjei. 1948. Mmɔdenbɔ bu mmusu abasa so (short stories in Twi).
London, New York: T. Nelson.
Akrofi, C.A. 1958. Twi Mmebusɛm. (Twi Proverbs). Kumasi: Presbyterian Book Depot.
Akrofi C.A. and G. L. Botchway. 1968. An English, Twi, Ga Dictionary. Accra: Waterville.
Akrofi, C.A., G.L. Botchway, and B. K. Takyi. 1996. An English, Akan, Ewe, Ga Dictionary. Accra: Waterville Publishing House.
Akrofi, C.A and E. L. Rapp. 1964. Anyamesɛm anasɛ Kyerɛw Kronkron Apam dedaw ne Apam foforo nsɛm wɔ Twi mu (Holy Bible translated from the original tongues into the Twi language). Accra: Bible Societies in West Africa.
Akrofi, C.A and J. Yeboah Dankwa. 1973. History of the Presbyterian Training College, 125 years Anniversary. Accra: Presbyterian Book Depot.
Akrofi, C.A. n.d. Lidia ne Margaret. (Two women of the Cameroons). A true life story of two Cameroonian women who worked as pathfinders for the spread of Christianity.
Akrofi, C.A n.d Yesu fi n'adwuma ase (Jesus begins His work).
Asare Opoku, K. 1967. Obituary. Dr. Clement Anderson Akrofi. Research Review. Inst. of African Studies. 4 (1): 3.
Bediako, K. 1995. Christianity in Africa. The Renewal of a Non-western Religion. Edinburgh: Edinburgh University Press.
Bediako, K. 1998. Clement Anderson Akrofi. Biographical Dictionary of Christian Missions. Wm. B. Eerdmans Publishing Co.
Bediako, K. 2014. Christianity in Africa. The Renewal of a Non-western Religion. Trends in African Christianity. Regnum Africa.
Brokensha, D. 1966. Social Change at Larteh. Oxford: Clarendon Press.
Debrunner, Hans W. 1967. A History of Christianity in Ghana. Accra: Waterville Publishing House.
Dixon, R. M. W. 2009. Basic Linguistic Theory. Vol. 1. Oxford: Oxford University Press.
Dolphyne, F. A. 2006. The Akan (Twi-Fante) Language. Its Sound Systems and Tonal Structure. Accra: Woeli Publishing Services.
Dryer, Matthew. 2006. "Descriptive Theories, Explanatory Theories and Basic Linguistic Theory." In Catching Language: Issues in Grammar Writing, edited by Felix Ameka, Alan Dench and Nicholas Evans, 207-234. Berlin: Mouton de Gruyter.
Dwarko, D.W. 1977. "Clement Anderson Akrofi". In The Encyclopaedia Africana Dictionary of African Biography, Vol. 1. Ethiopia-Ghana., edited by L.H. Ofosu-Appiah. New York: Reference Publications Inc.
Groves, C.P. 1948. The Planting of Christianity in Africa. London: Lutterworth Press.
Herman, D., Phelan J., Rabinowitz P. J., Richardson, B., Warhol, Robyn. 2012. Theory and Interpretation of Narrative. Columbus: Ohio State University Press.
Kpobi Anum, D.N. 2008. Mission in Ghana: The Ecumenical Heritage. Accra: Asempa Publishers.
Pawlikova-Vilhanova,Viera. 2007. "Christian Missions in Africa and their role in the Transformation of African Societies." Asian and African Studies. 16 (2): 249-260.
Riemann G. 2003. "A Joint Project against the Backdrop of a Research Tradition: An Introduction to 'Doing Biographical Research'". Forum: Qualitative Social Research. Vol. 4: 3.
White, M. and Epston, D. 1990. Narrative means to Therapeutic ends. New York: W.W. Norton.

On-line source:
https://dacb.org/stories/ghana/akrofi-clement2/retrieved 1/6/2018.
Other sources consulted:
Souvenir Brochure, Ceremony on some Ghanaian Celebrities, University of Cape Coast.
Nov. 30, 1974.
Tribute to Dr. C.A. Akrofi, An Eminent Scholar' in the Christian Messenger, Nov. 1967.
Vol. 1X, No. 2.
Inauguration Brochure: 19th April 1987. The Akrofi-Christaller Memorial Centre. For
Mission Research and Applied Theology.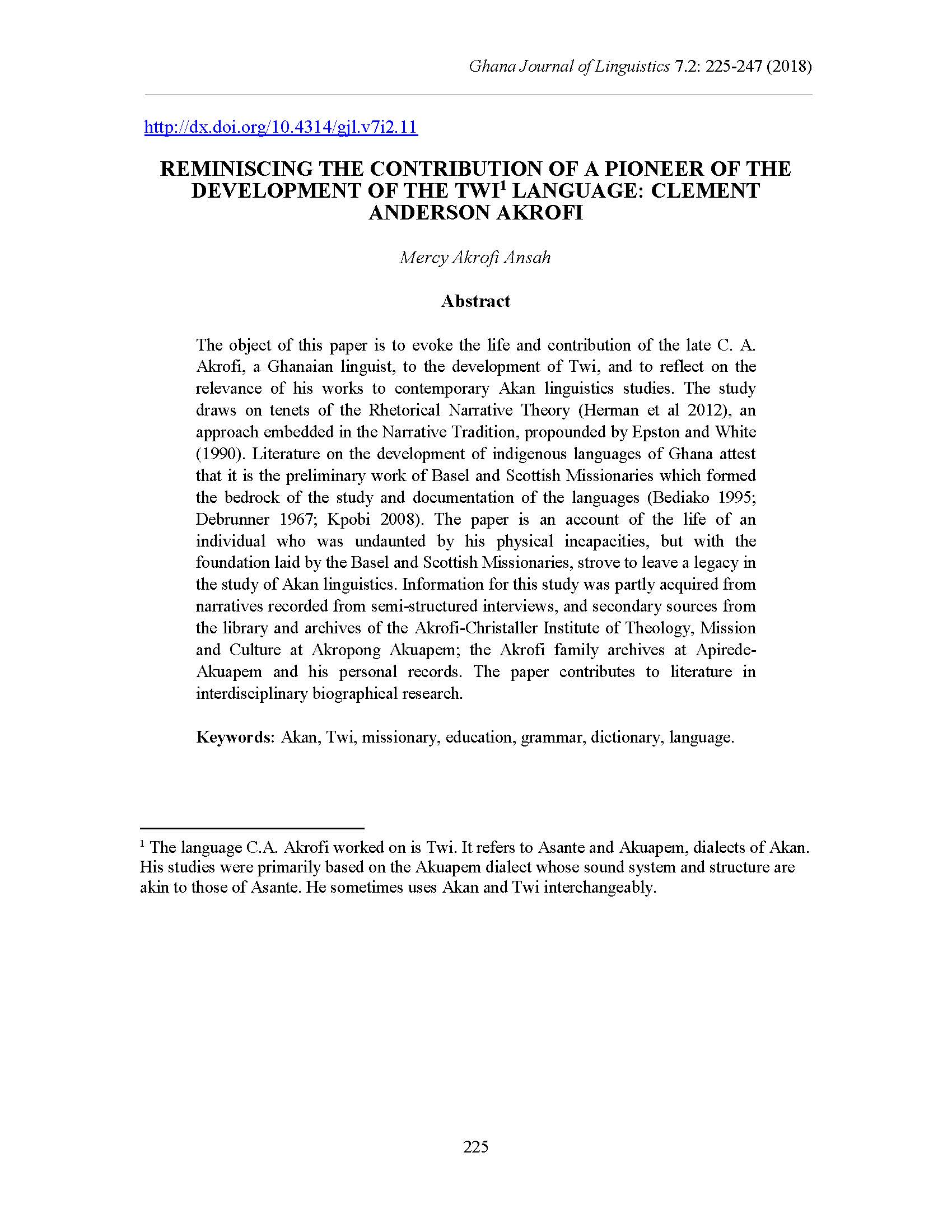 Downloads
How to Cite
Ansah, M. A. (2018). Reminiscing the Contribution of a Pioneer of The Development of The Twi Language: Clement Anderson Akrofi. Ghana Journal of Linguistics, 7(2), 244–266. https://doi.org/10.4314/gjl.v7i2.234