Details

Published: Tuesday, 26 July 2016 16:04
Written by Ọbádélé Kambon, PhD
Details

Published: Wednesday, 29 June 2016 12:46
Written by Ọbádélé Kambon, PhD
LAG 2018
CALL FOR PAPERS
Dear LAG member, please find the LAG 2018 call for papers below:
Abstracts are invited for the 11th Linguistics Association of Ghana Annual Conference (LAG 2018), scheduled for July 30 –August 01, 2018 at the University of Ghana, Legon, Accra.
The Conference is under the theme: CURRENT TRENDS IN LANGUAGE STUDIES.
It is expected that the discussions will focus on the main theme as well as the following sub-themes:
· Language for Specific Purposes Corpus linguistics
· Academic Language and Learning Language Teaching and Learning
· Effective Language Uses Indigenous Language Usage
· Discourse Analysis Language and Politics
· Language and Communication Language Endangerment
· Cultural Linguistics Language and Literature
Abstracts from core areas of linguistics such as Phonetics, Phonology, Morphology, Syntax, Semantics, Pragmatics, Applied Linguistics, and Sociolinguistics are also strongly encouraged and expected.
SUBMISSION GUIDELINES:
· Anonymous single-spaced abstracts addressing the theme of the Conference and other areas of Linguistics mentioned above should be sent electronically to:This email address is being protected from spambots. You need JavaScript enabled to view it.
· Author details including names, title of paper, institutional affiliations and e-mail addresses should be sent on a separate sheet to the same address.
· Abstracts should be in word format and an additional PDF format should be provided for abstracts containing special characters or figures.
Each paper will be allocated 20 minutes for presentation and 10 min. for discussion.
Word Limit of Abstract: 250 words
Deadline for Abstract Submission (Extended): May 31, 2018
Notification of Acceptance: June 15, 2018
Details

Published: Saturday, 16 April 2016 10:39
Written by Ọbádélé Kambon, PhD

LINGUISTICS ASSOCIATION OF GHANA ANNUAL
CONFERENCE 2016:
LAG 2016
9th Linguistics Association of Ghana Annual Conference (LAG 2016), Tuesday July 26th –Thursday July 28th, 2016 at the Ghana Institute of Linguistics Literacy and Bible Translation (GILLBT), Tamale.
(Click the PDF Icon Below for a Downloadable PDF Version of the Programme)
CONFERENCE DAY 1:
Tuesday, JULY 26, 2016
8:00a.m

Registration of Participants

9:00a.m.

Opening Prayer

Welcome Address: Dr. Paul Schaefer

Opening Remarks & Introduction of Chair-person: Dr. Charles Marfo (President, LAG)

Chairman's Response

Musical Interlude

-

-

Keynote Address: Dr. Paul Opoku Mensah, Director, GILLBT

Chairman's Closing Remarks
10:30am-11.00: COCOA/COFFEE/TEA BREAK
MORNING SESSION (11.00 am – 1.00 pm)
Time

ROOM 1

SYNTAX

Chair: Dr. Ọbádélé Kambon

ROOM 2

MIXED GRILL

Chair: Dr. Paul Schaefer

ROOM 3

PERSONAL NAMES

Chair: Dr. Evershed Amuzu

11:00

Relativization in Kusaal

Abubakari Hasiyatu

What's in a name? West-African retentions and innovation in plant names from Curaçao and Suriname

Tinde van Andel, Margot van den Berg & Mireia Alcantara Rodriguez

The Morpho-Syntax of Some Proverbial Names of Persons in Mampruli

Fatawu Amidu

11:30

The Place of the Akan Object Pronouns in a Syntagmatic Grammatical Relation and its Representation

Michael Damoah & Bernard Ampong

Epistemic modal verbs in research articles written by Ghanaian and international scholars: a corpus-based study of three disciplines

Richmond Sadick Ngula

The Derivational Processes of Personal day-names in Akan

Kwasi Adomako

12:00

Tense and Aspect System of Sɛlɛɛ

Yvonne Agbetsoamedo

Dagara Personal Names

Nerius Kuubezelle & Moses Kambou

Psycho-social and Cross-cultural Analyses of Personal Names in Ghanaian Cultures

Nsoh Avea & Gervase Dorzie

12:30

The Syntax of Anaphors in Likpakpaanl

Samuel Awinkene Atintono, Samuel Issah & Samuel Owoahene Acheampong

Inserting Native Languages In Translation – A Case Study Russian, English And Akan

Albert Antwi Boasiako

A Morphological Analysis of Akan Days-of-the Week and Day-Names

Seth Antwi Ofori
1.00 – 1: 45pm: LUNCH PERIOD
AFTERNOON SESSION (2.30pm – 5.00pm)
Time

ROOM 1

PHONOLOGY

Chair: Dr. Samuel A. Atintono

ROOM 2

LITERARY EDUCATION

Chair : Dr. J. Dzahene-Quarshie

ROOM 3

FRENCH AND ORTHOGRAPHY

Chair: Dr. Kofi Adu Manyah

2:00

Vowel Harmony Systems in Two South-Guan languages (Efutu and Leteh): A case of Dominant Language Influence

Nana Ama Agyeman & Mercy Akrofi Ansah

An Inquiry into Teaching of English in Avatime Community in Ghana

Brian S. Akrong

Problème D'emploi du Passé Composé par les Étudiants du Fle au Département de Français À L'University of Education Winneba

E. K. Afari & D. K. Ayi-Adzimah

2:30

The Tonal Phonology of Tense, Aspect and Polarity (TAP) marking in Buli

George Akanlig-Pare

The Place of Code-Switching as a Medium of Instruction in Language Classroom in Ghana: A Case Study in the University College of Management Studies, Kumasi Campus

Theophile Kwame Atonon

La Place Des Nouvelles Technologies Dans L'enseignement /Apprentissage De L'orthographe En Français Langue Étrangère Au Ghana

Essinam Akakpo

3:00

Vowel Harmony in Kiswahili

Kithaka wa Mberia

Grammatical and Lexical Errors in Students' English Writing: The Case of Three Senior High Schools in the Central Region of Ghana

Charles Owu-Ewie

Effective Use Of French For Specific Purposes As A Tool For The Implementation Of Worthwhile Goals: Lessons From The Health Sector

Sewoenam Chachu & Rojer Kouadjo Appiah

3:30

Tùtrùgbù Loanwords Phonology

Divine Kormla Gborsi

Top-Down and Bottom-Up Approaches: Implication for The Language-Of-Education in Ghana

Elvis Yevudey

Object Pronominalization in French Negative Forms of Simple Sentences: The Case of SHS Learners in The Sekondi-Takoradi Metropolis.

Anthony Okyere-Dadzie & Moses Kwadwo Kambou

4:00

Phonological Adaptation of English Loanwords in Dangme

Regina O. Caesar and Prosper T. Akortia

Anti-violence-violence: Critical reflections on Kourouma's Salimata in The Suns of Independence through Fanon's Lenses.

Mawuloe Koffi Kodah & Daniel Okyere-Darko Nsowah

Grassroots Safaliba language and literacy: local practices reshaping schooling

Ari Sherris, Paul Schaefer, Aworo Samua Mango, Fatima Kosiaku, Moses Gbolo, Abdulai Adams & Mohammed Issahaku
4:30 – 6.00pm: BUSINESS/GENERAL MEETING
6:30pm: CONFERENCE DINNER
CONFERENCE DAY 2:
WEDNESDAY, JULY 27, 2016
MORNING SESSION (8.30 – 11.00)
Time

ROOM 1

SOCIOLINGUISTICS

Chair: Dr. Margot van den Berg

ROOM 2

COGNITIVE LINGUISTICS

Chair: Dr. Rebecca Akpanglo-Nartey

ROOM 3

SYNTAX

Chair: Dr. Clement K. I. Appah

08:30

Diglossia in Postcolonial Contexts: Towards a New Theory?

Gabriel Edzordzi Agbozo

Conceptual Implications on The Usage of Ŋù in Ewe

Emmanuel Dogbey

Akan and Yorùbá Serial Verb Construction Nominals as Idioms

Ọbádélé Kambon

09:00

Like the Colourful Kente Cloth: Language Choice at Interethnic Marriage Ceremonies in Accra

Evershed Amuzu, Grace Diabah & Anastasia Nuworsu

An account of cognitive cultural effects for 'Agent' or 'character' cognition in Ewe figurative language

Emmanuel Dogbey & Linda Chinelo Nkamigbo

Conceptualization of Temperature and their metaphorical Usage of Akan

Emmanuel Addofoh

09:30

Stigmatizing the Solution Away: Expressions of Adolescent Pregnancy in some Ghanaian Languages.

Reginald Akuoko Duah & Priscilla Letsa Demi

Citizens' use of metaphors in political discourse in Ghana

Emmanuel Amo Ofori

Meboa Anaa?: Question and Disjunction in Akan

Charles Marfo

10:00

Multilingualism and Language Practices among Nigerien (Im)Migrants in Ghana

Nana Aba A. Amfo, Evershed Amuzu & Yvonne Nutakor

Love and Death Conceptualized in Seven Ghanaian Languages

Ari Sherris, Samuel Atintono, Prosper Teye Akortia, Kenneth Bodua Mango

Habiba Alhassan, Dahamani Alhassan, Samuel Amoh , Essien Seth Nketia & Kotchi Shaibu

Motion in Toposa: Is Toposa a Verb Frame or Satellite Frame Language?

Helga Schroeder

10:30

Power and Domination as Persuasive Tools in Discourse of Christian Events in the Cape Coast Metropolis of Ghana

Klinogo Ransford Gameli, Gloria Akwetteh, Portia Mamle Angmorteh

Metaphors Encoding Inalienability

Josephine Dzahene-Quarshie

Morpho-Syntax of Causatives in Kwa

Reginald Akuoko Duah
11.00-11.30: COCOA/TEA/COFFEE BREAK
Time

ROOM 1

PROVERBS/FOLKTALES AND ORTHOGRAPY

Chair: Dr. Grace Diabah

ROOM 2

SYNTAX

Chair: Dr. Seth Antwi Ofori

ROOM 3

GHANAIAN ENGLISH

Chair: Prof. Nana Aba A. Amfo

11:30

Critical Examination of Images of Contention and Violence in Dagara and Akan Proverbial Expressions

Martin Kyiileyang, Michelle Ama Debrah & Rebecca Williams

An Overview of the Formation of Content Questions in Sɩsaalɩ

Irene Basimaga Dumah

The Role of Pitch (Mis)Match in Signaling (Dis)Agreement in Ghanaian English Discourse

Charlotte Fofo Lomotey & Monica Amoah Apenteng

12:00

Critical Examination of the Orphan Motif in Dagara Folktales

Martin Kyiileyang

Focus Exhaustivity in Dagbanli

Abdul-Razak-Inusah & Edward Salifu Mahama

Towards Standardisation of Ghanaian English – The Case of UEW Students

Cynthia Logogye & Amma Abrafi Adjei

12:30

Literary Analysis Of Kukula Praise Songs

Abdul-Hakim Umar

On the Alienable Possessive Construction in Tɔŋúgbe, A Dialect of the Ewe Language

Promise Dodzi Kpoglu

Ghanaian English Consonants Revisited

John F. Wiredu, Jemima Anderson & Gladys Ansah

1:00

Linguistic and Non-Linguistic Factors in the Development of the Orthography of Kenyen

Oksana Korshunova-Larrey

On Predication of Adjectives in Ga

Yvonne Akwele Amankwaa Ollennu

The Structure And Function Of Prominence In Nonnative Speaker Instructional Discourse: The Case Of Ghanaian English

Gifty Osei-Bonsu & Charlotte Fofo Lomotey
CONFERENCE DAY 3:
THURSDAY, JULY 28, 2016
MORNING SESSION (8.30am – 10.30 am)
Time

ROOM 1

PHONOLOGY

Chair: Dr. Charlotte Fofo Lomotey

ROOM 2

MORPHOLOGY

Chair: Dr. Charles Owu-Ewie

ROOM 3

SEMANTICS AND PRAGMATICS

Chair: Dr. Grace Ansah

8:30

Sociolinguistic Analysis of Vowel Lengthening In Ewe

Pascal Kpodo, Rebecca Akpanglo-Nartey and Georgina Sapaty

Compounding In Gonja

Kenneth Bodua-Mango

A Descriptive Analysis of Antonymy In The Igbo Language

Thecla Ngozi Udemmadu & Christian Ezenwa Ogwudile

9:00

Vowel Harmony In Sɩsaalɩ

Moses Dramani Luri

The Morphology of Affixes In Dagaare

Gervase Dorzie & Sanortey Thomas Dikpetey

"Paddling A Canoe and Preparing Rice Balls": The Semantics of Tafi Cuisine

Mercy Bobuafor

9:30

The Loss Of Prenasalisation In Gikuyu; Implication On The Language's Phonemic Stock And Orthography

Kenneth Kamuri Ngure

A Functional Analysis of Reduplicated Words In Akan

Seth Antwi Ofori & Kofi Korankye Saah

An Investigation of Politeness Strategies in Likpakpaln 'Konkomba'

Abraham Kwesi Bisilki

10:00

Consonant Epenthesis In Dagbani

Mohammed Osman Nindow

Compounds In Esahie

Victoria Owusu Ansah & Clement K. I. Appah

Investigating Politeness Strategies In Ghanaian Media Panel Discussions

Kwasi Sarfo-Adu
10:30am-11.00: COCOA/COFFEE/TEA BREAK
Time

ROOM 1

FOLKTALES/PROVERBS

Chair: Prof. John F. Wiredu

ROOM 2

MORPHOLOGY AND DISCOURSE

Chair: Dr. Elvis Yevudey

ROOM 3

PRAGMATICS

AND PHONOLOGY

Chair: Dr. Regina Caesar

11:00

Using Wordless Folktales to Improve reading and Writing Skills in Dangme

Emmanuel Tetteh Atteh

Compounding in Ewe

Joy Agama, Anthony Agbadah & Clement K.I. Appah

Politeness and Politics: Bald-On-Record as a Politeness Strategy in Parliamentary Discourse

Ebenezer Ghampson & Peter Kofi Afful

11:30

The Status of Women in Gurenɛ Proverbs

James Abbabila Azure

Compounding in Dangme

Richard Ayertey Lawer & Clement K. I. Appah

The Pragmatics of 'Koraa' in English in Ghana

Jemima Asabea Anderson

12:00

Characterization of Birifor Folktales

Gervase Dorzie & Thomas Dikpetey Sanortey

A Discourse Analysis of Official Press Releases Issued by the Government of Ghana and State Institutions in the Energy Sector During 'Dumsor' (2013-2015)

Asare Okae-Anti and Naa Korkor Leeyoo Watson Nortey

The role of "Mmm" and "Oh' in Listeners Responds in Natural Conversation :

The Case of Ga

Ruby Otoo

12:30

Convergent and Divergent Conceptions of Gender in Akan and Swahili Proverbs

Josephine Dzahene-Quarshie & Shani Omari

A Semiotic Investigation of the 2015 Governorship Election Campaign, Posters and Billboards in Lagos State

Iyabode Omolara Daniel

Focus in Gua

Monica Amoah Apenteng
1.00 – 2.15pm: LUNCH PERIOD/ACLS AHP Application Workshop
AFTERNOON SESSION (2.30pm – 5.00pm)
Time

ROOM 1

MIXED GRILL

Chair: Dr. Akanlig-Pare

ROOM 2

SOCIOLINGUISTICS

Chair: Dr. Grace Ansah

ROOM 3

2:30

Analysis of the Use of Transitivity in the 2016 State of Nation's Address by President John Dramani Mahama

Klinogo G. Ransford, Portia Mamle Angmorteh, Gloria Akwetteh

The Sociolinguistics Wearing The Traditional Cloth Among Gas

Yvonne Akwele Amankwaa Ollennu & Patience Obeng

3:00

Parentheses as Salutary Semantic Digression in Kourouma's Narratives: A Reading of The Suns of Independence and Allah Is Not Obliged

Mawuloe Koffi Kodah & Anukuare Aku Tchimavor

Language Barrier as Hindrance to Information Dissemination: A Critical Observation

Juliet Oppong-Asare & Philomena Yeboah

3:30

The Falling Tone in Dholuo

Jane Akinyi Ngala Oduor

Minorisation of Indigenous Languages in Education and Governance in Nigeria

Kehinde A. Ayoola
4.00 pm: CLOSING / FAREWELL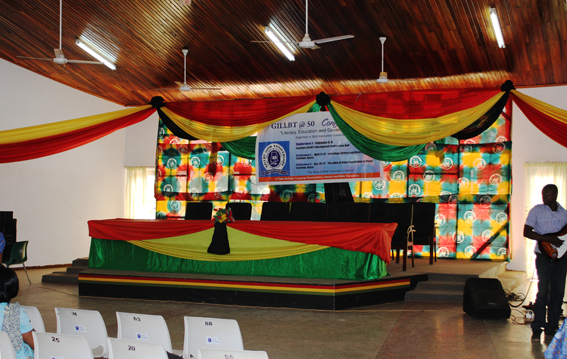 Details

Published: Saturday, 16 April 2016 10:14
Written by Ọbádélé Kambon, PhD
Journal
Ghana Journal of Linguistics
Hard copies of the Ghana Journal of Linguistics
The GJL is published only on-line, at ajol.info.  However, print-on-demand paper copies may be ordered.
Price:  Delivery in Ghana: GH¢ 30.00
Elsewhere in the world, delivery by DHL included: US$50.00
To place your order and receive payment instructions please contact:
This email address is being protected from spambots. You need JavaScript enabled to view it.
Be sure to specify the issue you want and your full mailing address if needed.
---
Ghana Journal of Linguistics is the Association's internationally peer-reviewed journal. It is not a journal of Ghanaian linguistics or of linguistics in Ghana, hence there is no restriction as to languages or topics to be dealt with, or theoretical orientation. It is published twice a year.
Hard copies of volume 2 (both issues) of GJL are available as print-on-demand for GHS30.00.
Call for Papers
Guidelines for Submissions to GJL
Preferred formats for References
Editorial Committee
Dr. Obadele Kambon (UG - Editor in Chief)
Prof E. Kweku Osam (UG - Consulting Editor)
Prof Mary Esther Kropp-Dakubu (UG)
Dr. G. S. Adika (UG)
Prof. N. A. A. Amfo (UG)
Dr. J. A. Anderson (UG)
Dr. C. Marfo (KNUST)
The abstracts and table of contents for the first issue of the Association's journal: Ghana Journal of Linguistics (GJoL) vol 1, no 1 can be viewed below.
Abstracts:
Table of Contents:
The abstracts and table of contents for the second issue of the Association's journal: Ghana Journal of Linguistics (GJoL) vol 1, no 2 can be viewed below.
Abstracts:
Table of Contents:
Editorial Board
Thomas Bearth (Switzerland)
Gudrun Miehe (Germany)
Felix Ameka (Netherlands)
John Singler (USA NYU)
Paul Kerswill (UK Lancaster)
Ozo Ndimele (Nigeria, Port Harcourt)
E. Abakah (Ghana UEW)
D.D. Kuupole (Ghana Cape Coast)
Kwesi Yankah (Ghana UG)