Ideological Points of View and Transitivity Selections in a Nigerian Primary Election Memoir
Keywords:
Key Words: ideology, point of view, transitivity, election memoir, Nigeria, Aisha Osori
Abstract
Abstract
Since its re-institutionalisation of democracy in 1999, Nigerian political parties have held many primaries. Previous studies on Nigerian primary elections have examined the interface between primaries, intra-party conflicts, general election irregularities and sustenance of democracy. Not many studies have extensively exteriorised the ideological points of view determining the engagements of primary and secondary political actors in primary elections with reference to the narratives of the political actors. Hence, this study did a discourse analysis of a Nigerian election memoir- Love Does not Win Elections- to determine the ideological points of view that the political actors index through selections from the transitivity system. The 127 samples which constituted the sample size were obtained using the purposive random sampling technique and subjected to a qualitative discourse analysis applying an analytical framework derived from van Dijk's socio-cognitive model of CDA, Stuart's model of point of view and aspects of Systemic Functional Linguistics (SFL). The findings indicated that political actors in Nigerian primary elections hold the conflictual, patronage, pecuniary, ethnic, patriarchal, religious and welfarist points of view. Electoral consumerism, clientelism, ethnicism, patriarchy, theological determinism and welfare state variously serve as the ideological backgrounds for the points of view. The points of view are linguistically indexed through material, mental, relational and verbal clauses.  The study concluded that there is the need for a consequential re-orientation of political actors in Nigerian primary elections as their ideological points of view on intra-party elections debar the election of responsive leaders and inhibit the emergence of a genuinely democratic culture.
References
Adadevoh, Irene Omolola. 2001. "Ethnicism and the Democratization of Civil Society: Envisioning Changes in the Proximal and Causal Ideologies of 'Marginality' in Africa and America." Afrika Zamani 9&10: 77-101.
Adangor, Zaccheus. 2019. "Promoting Internal Democracy in Political Parties in Nigeria: Looking beyond Section 87(9) of the Electoral Act, 2010 (As Amended)". African Journal of Law and Criminology 9(1): 1-16.
Adegoju, Adeyemi and Oyebode, Olufunke. 2015. "Humour as Discursive Practice in Nigeria's 2015 Presidential Election Online Campaign Discourse". Discourse Studies 17(6): 643-662.
Adekeye, Mutiat Adetayo. 2017. "Party Primaries, Candidate Selection and Intra-party Conflict in Nigeria: PDP in Perspective". Covenant University Journal of Politics and International Affairs 5(1): 22-39.
Feinberg, John. 2001. No One Like him. Wheaton: Crossway Books.
Halliday, Michael, A.K. and Matthiessen, Christian, M.I.M. 2004. Introduction to Functional Grammar. London: Arnold.
Hunston, Susan and Thompson, Geoff, eds. 2000. Evaluation in Text, Authorial Stance and the Construction of Discourse. Oxford: Oxford University Press.
Ibrahim, Jibrin. (2018, November 11). "Nigerian Democracy and the Threat of Transactional Politics". Premium Times. https://opinion.premiumtimesng.com/2018/11/16/nigerian-democracy-and-the-threat-of-transactional-politics-by-jibrin-ibrahim/ on 19th January, 2020.
Ikechukwu, Udeuhele Godwin. 2015. "Parties Parallel Primaries and its Implication to Political Development in Nigeria". Developing Country Studies 5(10): 109-121.
Martin, J.R., and White, P.R.R. 2005. The Language of Evaluation: Appraisal in English. New York: Palgrave Macmillan.
Martin, J.R., and Rose, David. 2007. Working with Discourse: Meaning beyond the Clause. London: Continuum.
Matthiessen, Christian M., Teruya, Kazuhiro and Lam, Marvin. 2010. Key Terms in Systemic Functional Linguistics. London: Continuum.
Mohammad, Aminu Kwasau. 2011. "Intra-party Politics and Primary Elections in People's Democratic Party: A Study of the Emergence of Gubernatorial Candidates in Kaduna State (1999-2015)". PhD Thesis, Ahmadu Bello University.
Osisanwo, Ayodele. 2011. "Language and Ideology in News Magazines Representation of Nigeria's 2003 and 2007 General Elections". PhD Thesis, University of Ibadan.
Osisanwo, Ayodele. 2012. "Conversationalisation of Discourse in Tell and The News Representation of Nigerian General Election". Working Papers: Journal of English Studies 5(1): 166-185.
Osisanwo, Ayodele. 2016a. "Role Allocation in the Media Representation of Participants in Selected Electoral Discourses in Nigeria". Athens Journal of Mass Media and Communications July 183-204.
Osisanwo, Ayodele. 2016b. "Representation of Nigerian General Elections and Social Actors in Selected Nigerian News Magazines' Reports". In Grammar, Applied Linguistics and Society: A Festschrift for Wale Osisanwo, edited by A. Odebunmi, A. Osisanwo, H. Bodunde and S. Ekpe, 248-266. Ile-Ife: Obafemi Awolowo University Press.
Oyeleye, Lekan and Osisanwo, Ayodele. 2013a. "Lexicalisation in Media Representation of the 2003 and 2007 General Elections in Nigeria". World Journal of English Language 3(2): 1-9.
Oyeleye, Lekan and Osisanwo, Ayodele. 2013b. "Expression of Ideologies in Media Accounts of the 2003 and 2007 General Elections in Nigeria". Discourse and Society 24(6): 63-773.
Piattoni, Simona. 2001. "Clientelism in Historical and Comparative Perspective". In Clientelism, Interests, and Democratic Representation: The European Experience in Historical and Comparative Perspective, edited by S. Piattoni, 1-30.Cambridge: Cambridge University Press.
Stuart, Keith. 1996. A Systemic Linguistic Analysis of Point of View in Narrative Fiction. PhD Thesis, University of Liverpool.
Tella, Akin. 2018. "Humour Generation and Multimodal Framing of Political Actors in the 2015 Nigerian Presidential Election Memes". European Journal of Humour Research 6(4): 95-117.
Tenuche, Marietu. 2011. "The Albatross Called Primary Elections and Political Succession in Nigeria". Canadian Social Science 7(4): 121-130.
Van Dijk, Teun. 1995a. "Discourse Semantics and Ideology. Discourse and Society 6 (2): 243-289.
Van Dijk, Teun. 1995b. "Discourse Analysis as Ideology Analysis". In Language and Peace, edited by C. Schaffner and A. Wenden, 11-52. Aldershot: Dartmouth.
Walby, Slyvia. 1990. Theorizing Patriarchy. Oxford: Basil Blackwell.
Weir, Margaret. 2015. "Welfare State". In International Encyclopedia of Social and Behavioral Sciences, edited by J. D. Wright, 16432-16435. California: University of California Press.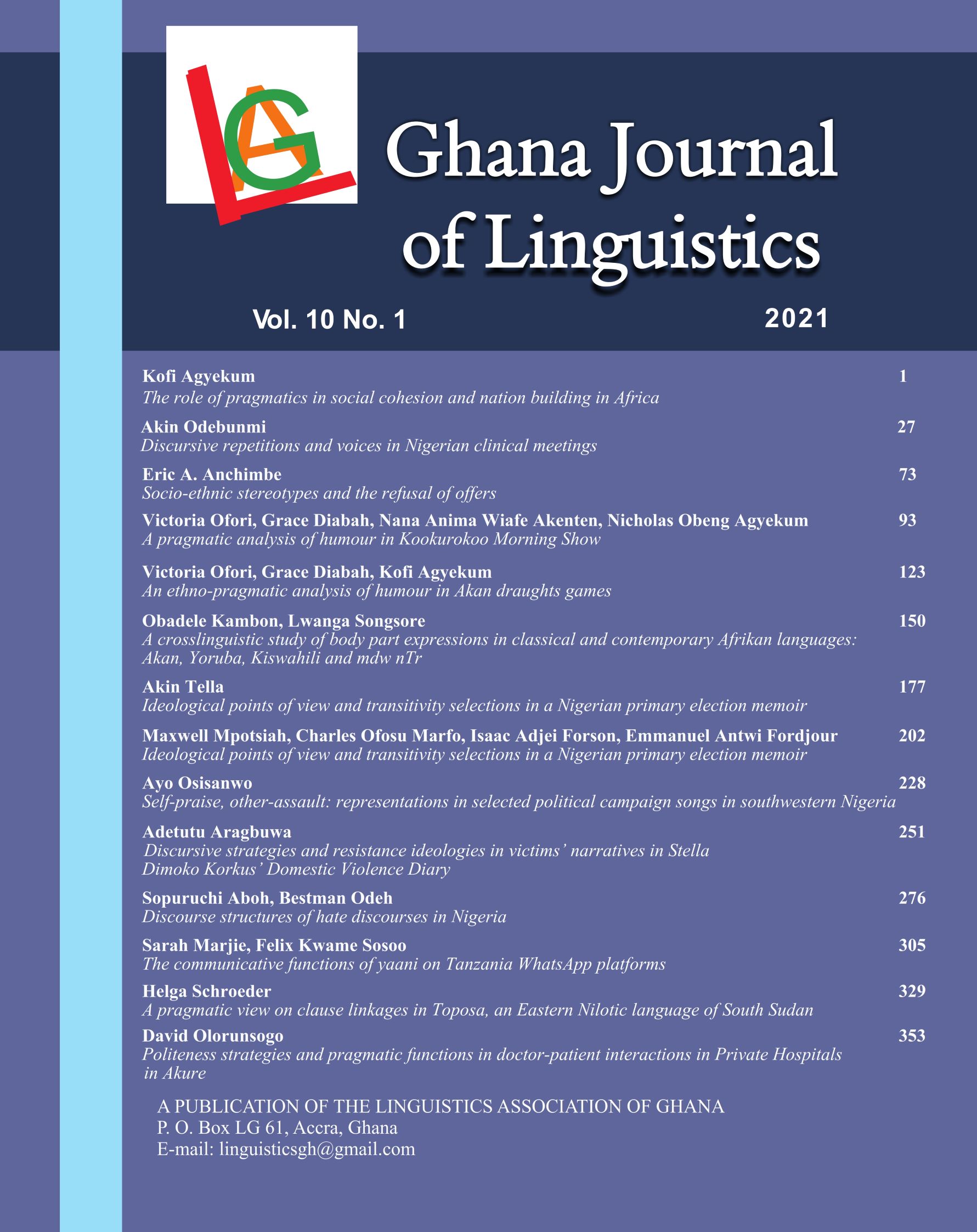 Downloads
How to Cite
Tella, A. (2021). Ideological Points of View and Transitivity Selections in a Nigerian Primary Election Memoir. Ghana Journal of Linguistics, 10(1), 177–201. Retrieved from https://laghana.org/gjl/index.php/gjl/article/view/343
License
Copyright (c) 2021 Akin Tella
This work is licensed under a Creative Commons Attribution 4.0 International License.
The Ghana Journal of Linguistics is published by the Linguistics Association of Ghana, P. O. Box LG 61, Legon, Accra, Ghana.
LAG Email: linguisticsgh@gmail.com. Website: http://www.laghana.org
GJL Email: gjl@laghana.org Website: http://www.laghana.org/gjl
© Linguistics Association of Ghana and individual authors, 2020.