A Sociolinguistic Analysis of Kinship Terms in Likpakpaln (Konkomba)
Abstract
This study, synchronically, describes and explicates the phenomenon of kinship terms in Likpakpaln, a Gur member of the Niger-Congo phylum, spoken mainly in the northern parts of Ghana. It focuses on the addressive usage of kinship terms. I use observation (both participant and non-participant) as a principal ethnographic data collection technique, supplemented by semi-structured interview, informal conversation and my native speaker introspection. The analysis of data is informed by Dell Hyme's ethnography of communication as a theoretical frame. Based on the data analysed, I argue that kinship addresses in Likpakpaln can be categorised into three types: agnatic, uterine and affinal kinship address forms. I also show that communicative ends have a major influence on the vocative usage of kinship terms in interlocution among the Bikpakpaam (the Konkomba people). I further argue that the repertoire of Likpakpaln kinship addresses and the pattern of usage of these kinship addresses in communicative interactions is greatly tied to the Bikpakpaam kinship structure and social universe. Finally, I observe that there is a perceptible level of intercultural intrusion on the kinship address terms used among the Bikpakpaam.
Key terms : Sociolinguistic analysis, kinship terms and Likpakpaln
Cette étude, synchronique, décrit et explique le phénomène des termes de liens de parenté en Likpakpaln, membre Gur du phylum Niger-Congo, parlé principalement dans les régions du nord du Ghana. Il met l'accent sur l'utilisation orale des termes de liens de parenté. J'ai utilisé l'observation (à la fois participante et non-participante) comme technique ethnographique principale, complétée par des entretiens semi-structurés, des conversations informelles et mon introspection personnelle en tant que locuteur natif. L'analyse des données est basée sur les travaux ethnographiques de la communication de Dell Hyme en tant que cadre théorique. Sur la base des données analysées, j'ai argumenté que  les expressions de liens de parenté en Likpakpaln peuvent être classés en trois types: la forme agnatique, la forme utérine et la forme d'affinité de liens de parenté. J'ai montré aussi que les buts de communication ont une influence majeure sur l'utilisation vocative des termes de liens de parenté dans les interactions parmi les Bikpakpaam (les peuples Konkomba). Je soutiens, en outre, que le répertoire des expressions de liens de parenté chez les Likpakpaln et le modèle d'utilisation des expressions de liens de parenté dans les interactions de communication est fortement liée à la structure des liens de parenté chez les Bikpakpaam et univers social. Enfin, je constate qu'il y a un niveau perceptible de brassage interculturel sur les termes de liens de parenté utilisés parmi les Bikpakpaam.
Termes clés: analyse sociolinguistique, les liens de parenté et Likpakpaln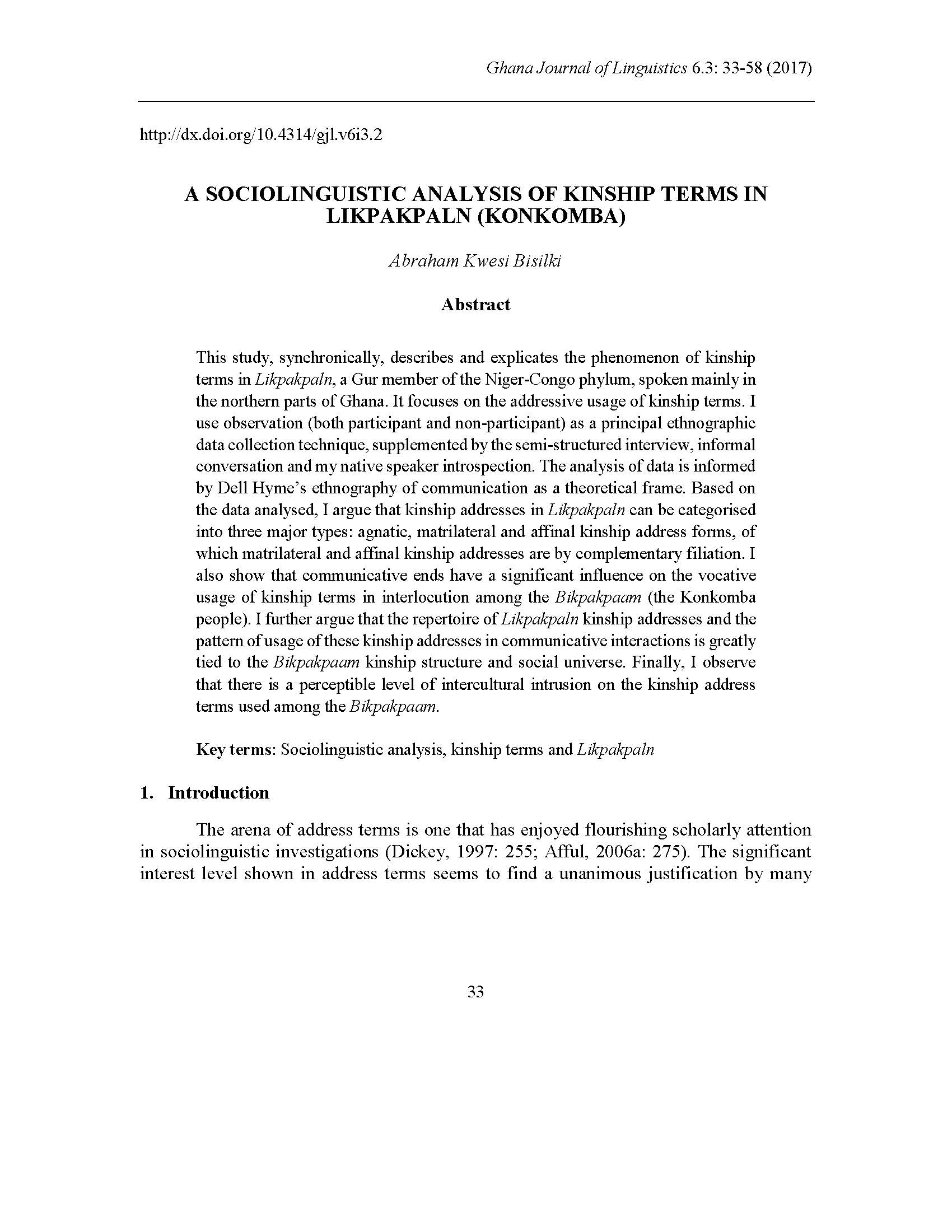 Downloads
How to Cite
Bisilki, A. K. (2017). A Sociolinguistic Analysis of Kinship Terms in Likpakpaln (Konkomba). Ghana Journal of Linguistics, 6(3), 33-58. Retrieved from https://laghana.org/gjl/index.php/gjl/article/view/88