Table of Contents
Keywords:
table, of, contents
Abstract
TABLE OF CONTENTS

 

William Kesse Bimpong

Supporting the speaking development of students in a Kiswahili-as-a-foreign-language (KFL) classroom       

                                                     

James Gyimah Manu          

Presupposition in Ghanaian and British Newspaper Editorials: A Comparative Study

 

Alimsiwen Elijah Ayaawan and Gabriel Opoku

Ideological discursive formations in an emerging democracy: The case of the presidential inaugural of Ghana in the Fourth Republic

 

Ọbádélé Bakari Kambon

Editorial Book Critique: The Origin of the Word Amen: Ancient Knowledge the Bible has Never Told                                                                                                                      

Clement Kwamina Insaidoo Appah

Book Review: Therapeutic Communication Competencies for Nurses and Midwives

 

Contributors to this Issue                                                                                                                                                                                                                                                                           

Preferred Format for References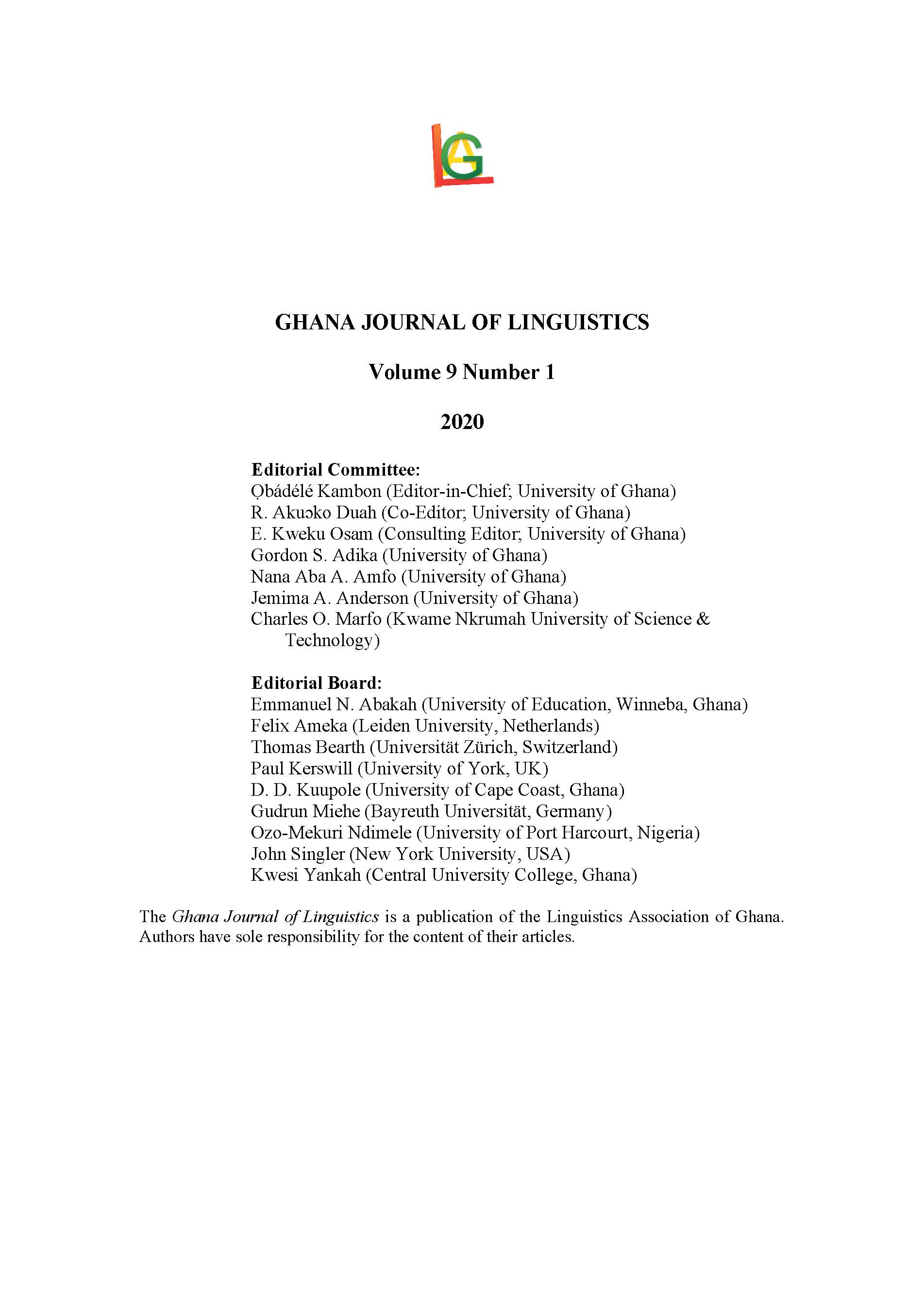 Downloads
How to Cite
Kambon, O. B. (2020). Table of Contents. Ghana Journal of Linguistics, 9(1), i-iii. https://doi.org/10.4314/gjl.v9i1.372
License
Copyright (c) 2020 Ghana Journal of Linguistics
This work is licensed under a Creative Commons Attribution 4.0 International License.
The Ghana Journal of Linguistics is published by the Linguistics Association of Ghana, P. O. Box LG 61, Legon, Accra, Ghana.
LAG Email: linguisticsgh@gmail.com. Website: http://www.laghana.org
GJL Email: gjl@laghana.org Website: http://www.laghana.org/gjl
© Linguistics Association of Ghana and individual authors, 2023.