Vol. 7 No. 1 (2018): Ghana Journal of Linguistics 7.1 (2018)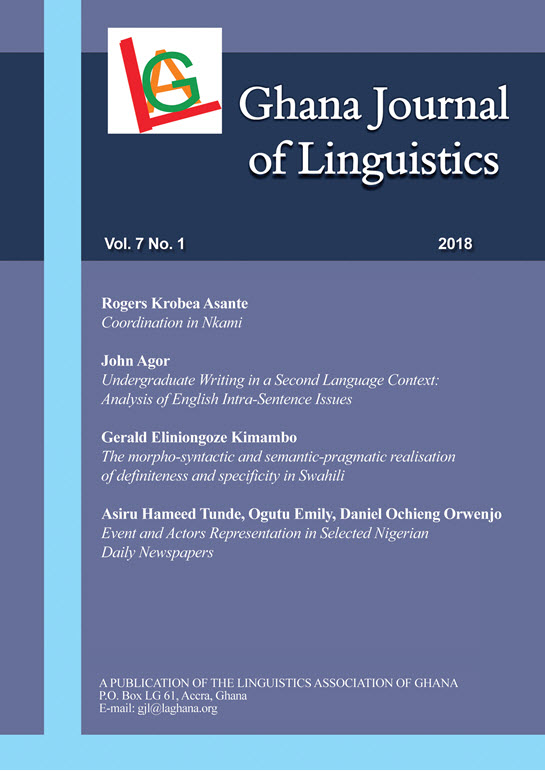 EDITORIAL NOTE
Dear esteemed readers of the Ghana Journal of Linguistics,
It is with great pleasure we announce the publication of this latest issue of GJL! This issue marks our first of 2018 and we are pleased to have four solid double-blind peer-reviewed articles representing a wide range of linguistic research. 
These articles exemplify GJL?s commitment to serving stakeholders by continuing to providing a hub for diverse linguistic scholarship. It is our fervent hope that GJL readers will find issue 7(1) engaging, intellectually stimulating and informative as we continue to promote the dissemination of top quality peer-reviewed research from throughout Africa.
This year, in addition to the regular issues, we look forward to a guest-edited special issue on the emerging research area of Areal Semantics. The Guest Editors of the special issue are Prof. Felix K. Ameka, Prof. Maria Koptjevskaja Tamm and Dr. Jonathan Brindle.  The articles to be included were selected from several that were presented at the School of Languages Conference (SOLCON), which took place at the University of Ghana in 2015. We are excited about this issue and we look forward to its forthcoming publication here at the Ghana Journal of Linguistics.  
Finally, as always, we at Ghana Journal of Linguistics (GJL) would like to thank authors, reviewers, readers and the entire membership of the Linguistics Association of Ghana (LAG) for their continued support. Additionally, I would like to thank LAG?s Executive Board, our Editorial Board, our Editorial Committee and most especially our Consulting Editor, Professor E. Kweku Osam, whose guidance is invaluable. We look forward to future issues of GJL as we continue to showcase the rich tradition of rigorous interdisciplinary linguistic scholarship from Africa and the African world.
Obadele Kambon
Editor-in-Chief ? Ghana Journal of Linguistics
 Accra
Full Issue